ThrivFIT SMALL GROUP TRAINING...WHERE THE MAGIC HAPPENS
Welcome to the #1 Small Group Training program that burns fat, gets you fit and challenges your body every time. SGT is the heart of what we do at ThrivFIT, our most successful clients choose this option. Working in small groups is a proven way to get results, humans have a tribe mentality, we want to belong, we thrive off of each other.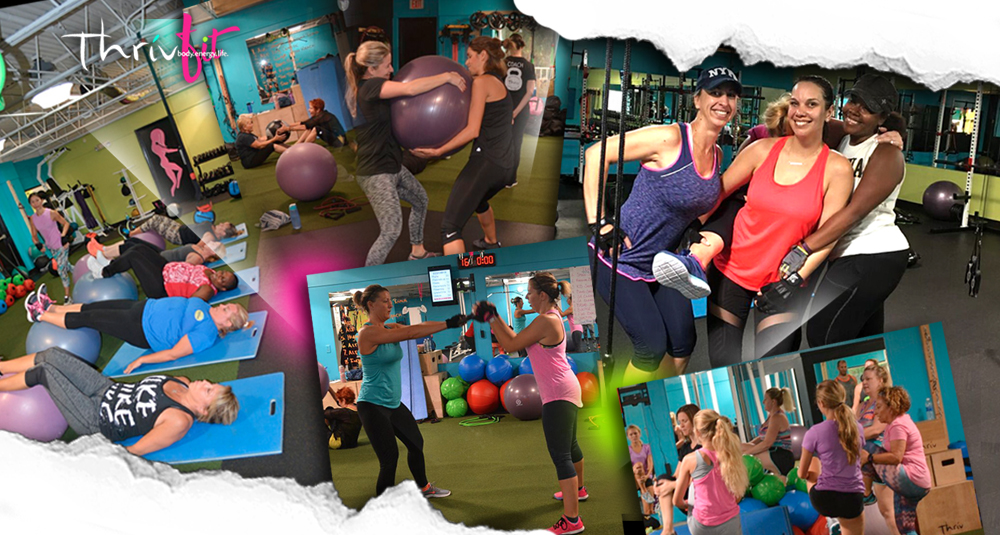 WHAT IS SGT?
Our unstoppable fitness formula SGT workouts are designed to shed your unwanted body fat in the shortest amount of time possible while giving you maximum results. No matter what fitness level you are, you are coached through your program and you walk away from every session feeling accomplished. This is unlike the typical gym or group exercise class where you are just a number and your needs get lost in the shuffle.
Being surrounded by like-minded people accelerates results and provides the motivation and inspiration to maintain a healthier lifestyle. And on top of getting faster results, your pocket book will thank you because you are sharing the cost with others, making it a steal compared to one-on-one training.

Expert Coaching Up To 6 Clients Per Training Session
SGT = Results...Get ready to Shrink, Tone and Tighten! And the best part, no matter your fitness level...we make sure you can do it.

Be ready to move! We check your movement patterns, define your goals, assess your lifestyle habits to come up with a game plan that will get you the best results.

Our On Boarding session will make sure that you are set up for success right from the start.

You'll have an accurate measurement of just how much body fat you currently have and how much you've lost throughout your program.

We all know that food is a huge part of your success. We are going to give you the tools to ensure that you can and will make the best food choices to create a healthier lifestyle. Keeping it super simple, you will know exactly what to eat, when to eat and how to make it work for your lifestyle. Our nutrition program is a true game-changer.

Be motivated by your results with scheduled check-in's to see improvements in body fat percentage, measurements and progress pictures. We'll ensure you are reaching your goals month after month.

At ThrivFIT we are there every step of the way to give you the motivation and accountability you've been so desperately missing. You never go it alone and we'll be there for you when you need it most. It truly is a lifestyle for us!
YOU DESERVE THIS
Are you lacking accountability to your goals?
Our clients come to us because they've tried everything, they are tired of looking in the mirror and hating the fat stranger staring back at them, they are ashamed of having let themselves go and lack the confidence to attack life the way they used to.
We've built our Team with the best Coaches that will guide you to success using nutrition, strength training, metabolic conditioning and accountability. Everyone knows food plays a critical role in a healthy lifestyle and that's what makes our programs different and so valuable. Our passion for health, fitness, and food has created a foundation for everything we offer. Our programs have worked for hundreds of women (and smart men..lol) just like you and we're confident they will work for you, too.


It's not just a workout to us. It's a lifestyle that our entire ThrivFIT family lives and will continually support you with. All you have to do is show up and follow the plan.
You'll wish you did it sooner! Click on the FREE Consultation at the top of this page and submit your information and we will reach back out to you to chat about how we can help crush your goals!